Microsoft Word 2013 Tutorial
Advanced Font Settins | Tutorial Main Menu | Training Homepage
Section 12a: Default Font Face
Microsoft Office 2007, Word comes with the default font face set to Calibri, a Microsoft specific font face. Changing the default to a more common font face, Arial for example, will ensure that your document displays properly for everyone who views it.
Changing Default Font Face
Figure 12a-1
Step 1. To access the advanced font settings, click on the icon in the bottom right-hand corner of the Font section of the ribbon menu, under the HOME tab.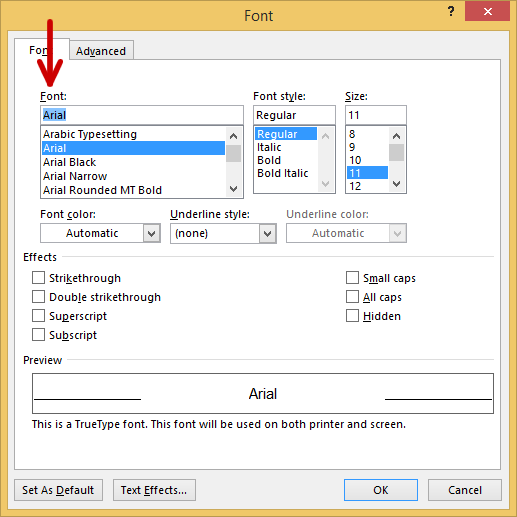 Figure 12a-2
Step 2. Once the Font window appears, select the desired font from the Font list.
Figure 12a-3
Step 3. After selecting the new default font, click the Set As Default button at the bottom left of the Font dialog.
Figure 12a-4
Step 4. In the next dialog asking which default to set, select All documents based on the Normal.dotm template and click OK.
Step 5. The default font has been changed and you can close the Font dialog.